JUST DATING NEWS!
---
Will Harvey Weinstein case be a watershed moment? Experience says probably not
Rick Hampson, USA TODAYPublished 12:01 p.m. Updated 2:03 p.m. ET Oct. 19, 2017
The Harvey Weinstein scandal is being hailed as a "watershed moment."  But many moments that first appear to be watersheds aren't, and many that really are watersheds become apparent only in retrospect.
Such moments are less about their impact on us than on those who come after us. That's why this exceptional case, with its grotesque protagonist, Hollywood setting and social media explosion, seems a dubious candidate for the watershed pantheon — except maybe as a cautionary tale about rushing to judgement.
Weinstein, the powerful and successful movie producer, is accused by many women, some quite famous, of being at least a sexual harasser and at worst a sexual assailant. He has both denied the charges and promised to seek help.
The affair has provoked a massive social media conversation, symbolized by the #MeToo hashtag that's been used by hundreds of thousands on Twitter. What began as a story about Hollywood has become one about America, with female political officials and others coming forward to tell of insults and assaults at work.
Following similar cases (including those of Bill Cosby, Bill O'Reilly and Roger Ailes), Weinstein's has persuaded some that we're at a turning point in how men and women  behave in the American workplace.
Gretchen Carlson, a former Fox News broadcaster who accused Ailes of sexual harassment, told USA TODAY's Cara Kelly that "this is the watershed moment'' in the fight against such conduct. Melissa Silverstein, founder and editor of the blog Women and Hollywood, is one of many others to use the same term.
The former Fox News Network host, whose new book 'Be Fierce: Stop Harassment and Take Your Power Back' is out Tuesday, delivers a personal message about ending workplace harassment. 
Josmar Taveras
But experience counsels caution, if not outright skepticism.
Historians such as Peter Stearns of George Mason University, Steve Gillon of the University of Oklahoma and Patrick Maney of Boston College agree that the term "watershed moment'' is overused.
Maney thinks the term should be reserved for "transformative events'' like the Industrial Revolution. He says that kind of change takes years. The U.S. Civil Rights Movement, for example, had no one single watershed moment after which everything changed, but rather a series of key events, from Rosa Parks on the bus in Montgomery in 1955 to the Pettus Bridge march in Selma in 1965.
STORY FROM USA TODAY NETWORK SHOP
Are you considering getting your MBA?
James Grossman, director of the American Historical Association, says watershed is "a bad metaphor.'' What makes a moment a watershed – its impact – by definition occurs in the future. "As an historian I have enough trouble figuring out what happened,'' he says,  "without figuring out what's going to happen.''
But sometimes history does seem to pivot on a single date or event: Pearl Harbor, the JFK assassination, 9/11, Adam's bite of the apple.
And these days, whatever the historians' preference, no one else wants to wait for history to be written.  "This is the era of instant history, so we have to try,'' says John Baick, who teaches at Western New England University in Springfield, Mass. "The question is, will it stick?''
The Weinstein affair is so unusual and unfinished it presents a daunting challenge to anyone who'd try to predict its eventual impact, or label it a watershed. That's because it features:
An unsympathetic villain and sympathetic accusers. Weinstein is being described as a monster, which does not portend or justify systemic change. Iif the monster is slain, the problem is solved. And his accusers (unlike, say, Cosby's) include celebrities (Gwyneth Paltrow, Angelina Jolie) with more clout and credibility than a working stiff.
An exotic setting. Hollywood is Hollywood. Most workplaces are not filled with beautiful people driven by a desire for global fame, access to which is controlled by a few men using subjective standards.
A social media sensation. A hashtag does not a watershed make. The impact of Twitter, Facebook et al. can be ephemeral. Take #BlackLivesMatter. That idea, so potent after the 2014 killing of Michael Brown in Ferguson, Mo., now seems lost in the NFL national anthem protests. And it has not stopped more police shootings of unarmed civilians of color.
An ongoing saga. Weinstein may be finished in Hollywood, but his case is still playing out. Will women (or men) from other fields continue to come forward to report abuse and thus keep the issue in front of the public?
An old, old problem. Sexual harassment at work goes back to when people worked in caves. The forces in Hollywood and elsewhere that conspire to allow or encourage such flagrant, repetitive behavior won't be vanquished by one million tweets or one man's ostracism.
More: The #MeToo movement didn't begin with Harvey Weinstein. And it won't end there
More: Courtney Love warned young women about Harvey Weinstein more than a decade ago
More: How 'whisper networks' help protect women from the Harvey Weinsteins of the world
For every legitimate watershed moment, there are many false alarms – events or dates that were hailed as landmarks at the time and either didn't have the expected impact, or were simply forgotten.
Some would-be watersheds:
The Newtown, Conn., massacre: The attack in 2012 was supposed to be the ultimate watershed moment, one that would lead to greater controls on automatic weapons like the one used to kill 20 elementary school students. Proposals got nowhere in Congress, despite White House support. Gun sales actually increased.
The 2008 presidential election. Barack Obama's presidency, undeniably historic, was also going to be transformative. "Doesn't seem that way now, does it?'' says Grossman. The election did not usher in a new era in race relations, and Obama's successor is working assiduously to erase his accomplishments.
The Clarence Thomas Supreme Court confirmation hearings. Anita Hill's  testimony in 1991 that Thomas harassed her when she worked for him was supposed to change how people thought about the issue. But the problem did not fade, to judge from the Weinstein outcry. And as Hill herself notes, many college students now don't know about her case.
If the long term importance of some events and dates are overestimated, others that really are significant pass unnoticed:
Oct. 12, 1998: Matthew Shephard is murdered. The University of Montana student's death became a rallying point for a crackdown on anti-gay violence.
Sept. 5, 1980: Mothers against Drunk Driving is founded. The group's crusade helped transform American behavior regarding alcohol and vehicles.
June, 1979: The Rev. Jerry Falwell co-founds the Moral Majority. The organization married conservative partisan politics and evangelical Christianity, a coalition that has helped elect four Republican presidents, including Donald Trump.
May 9, 1960: The Food and Drug Administration announces plans to approve the birth control pill. The sexual revolution was not far behind.
Even in hindsight, it can be hard to agree on what is or isn't a watershed moment.
Take the 1962 Cuban Missile Crisis. Although BC's Maney has it on his short list of watershed moments – the world has never come closer to nuclear war – it's probably not as big now as it seemed at the time.
By 2007, then-White House spokeswoman Dana Perino admitted to confusing the Soviet-U.S. standoff with the Bay of Pigs, the ill-fated U.S.-backed invasion of Fidel Castro's Cuba one year earlier.
Similarly,  9/11 is not a watershed in every respect. Predictions 16 years ago that the terror attacks would lead to an era of political civility and national unity now look silly.
Casting couch: Quo vadis?
You never know what's beyond the mountain range that divides the watershed, so it's hard to know if Weinstein's fall will have a lasting impact on his nation or his industry.
For some American women, it's a cathartic moment. But why would the case of a man who toiled far behind the camera be more galvanizing that those of familiar, often admired men like O'Reilly and Cosby? Or of a presidential candidate who boasted on videotape of groping women?
A woman named Wagatwe Wanjuki wrote on Facebook that she won't say "me too" partly because "I know, deep down, it won't do anything. Men who need a certain threshold of survivors coming forward to 'get it' will never get it."
Hollywood could be another story, and maybe the casting couch's days are numbered. It's equally possible that, just as it survived the demise of the old Hollywood studio system under which it became infamous, the couch will survive this, too.
Even as Weinstein sinks below the waves, an industrial structure in which the powerful  can take sexual advantage of the less powerful remains unchanged. It is, in the words of a song from an animated Hollywood blockbuster, a tale as old as time.
---
Woman victim of dine and dash after online (PlentyofFish) (POF.COM) date
Amber Lee Published: Updated:
This experience hasn't scared her off from dating but she wants to warn other to be on guard
(CNN) – Some say you can't put a price on love but one California woman says she ended up paying more than her fair share. She went on a date with a man she met online. Her prince charming showed up, ate his fill and then dashed leaving her with a $163-dollar restaurant bill. Turns out, police were already looking for this guy.
Diane Guilmette, Dine and Dash Victim said, "I was just I was shocked I was so floored I was embarrassed."
Diane Guilmette of van Nuys is victim of a dine and dash. Only the person who dined her was the one that dashed leaving her with $163 tab!
Diane Guilmette: "And I got a message from this guy. It was really a very flattering message."
She says she met him on a dating site called "plenty of fish." He initiated the conversation and after a few messages the two decided to meet at Morton's Steakhouse in downtown l-a.
Diane Guilmette: "A little pricey for me but I agreed."
Guilmette says he wasn't shy when it came to ordering.
Diane Guilmette: "He ordered a lot of food. He had an appetizer. He ordered a steak. This restaurant is all al la carte.
He even ordered a couple sides, a glass of wine. So he was looked like he was really enjoying himself and when we got near to the end of the meal, not quite finished, he said he had to go make a phone call."
15 minutes later Guilmette says she realized he wasn't coming back.
Diane Guilmette: "When I went to message him on the app, he had blocked me. And I thought, 'Oh my gosh! Is this really happening right now?"
That's when she took to social media and told her friends what happened posting pictures of this man who police say is Paul Gonzales of Alta Loma. They say, he's also accused of failing to pay for a cut and color at a Burbank salon back in February. We brought you the story back then.
The l-A district attorney's office says Gonzles is facing two pending cases of petty theft. Guilmette says once she told her story online other women came forward and shared their own stories.
Diane Guilmette: "I've heard lots of people say he did the same thing. It's typically very high end restaurants."
She says this experience hasn't scared her off from dating but she wants to warn other to be on guard!
---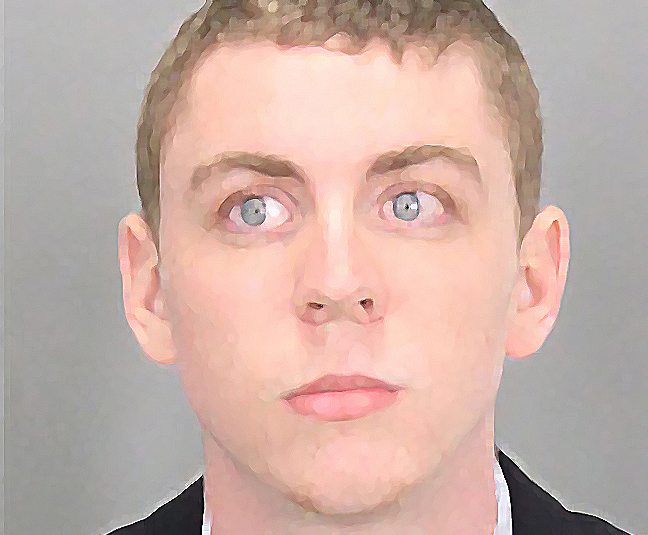 Dear Mr. Turner,
I've read your letter to the judge on behalf of your son Brock, asking for leniency in his rape conviction.
I need you to understand something, and I say this as a father who dearly loves my son as much as you must love yours:
Brock is not the victim here.
His victim is the victim.
She is the wounded one.
He is the damager.
If his life has been "deeply altered" it is because he has horribly altered another human being; because he made a reprehensible choice to take advantage of someone for his own pleasure. This young woman will be dealing with this for far longer than the embarrassingly short six months your son is being penalized. She will endure the unthinkable trauma of his "20 minutes of action" for the duration of her lifetime, and the fact that you seem unaware of this fact is exactly why we have a problem.
This is why young men continue to rape women.
This is why so many men believe that they can do whatever they please to a woman's body without accountability.
This is the reason so many victims of sexual assault never step forward.
This is why white privilege is real and insidious and usually those with it are oblivious to it.
I understand you trying to humanize your son in your letter; talking to the judge about his favorite snacks and swim practice and about the memories that are sweet for you as his father—but to be honest I don't give a damn and if his victim was your daughter I'm quite sure you wouldn't either.
I imagine this young woman had favorite snacks and sports too, and parents who had wonderful plans for her that didn't include this nightmare.
There is no scenario where your son should be the sympathetic figure here. He is the assailant. He is the rapist. I can't imagine as a father how gut wrenching such a reality is for you, but it is still true. 
Brock has to register as a sex offender because he sexually assaulted an incapacitated young woman. This is why we have such requirements; because one vile act against another human being is one too many, because we don't get a do-over when we do unspeakable things, because people need to be protected with knowledge of others in their midst who have failed so egregiously at respecting another person's basic dignity.
The idea that your son has never violated another woman next to a dumpster before isn't a credit to his character. We don't get kudos for only raping one person in our lifetime. I don't believe your son is a monster but he acted like one and that needs to be accounted for. To be sure, this decision is not the sum total of Brock's life, but it is an important part of the equation and it matters deeply. 
And to be clear, Mr. Turner,"alcohol and sexual promiscuity" are not the story here. The story here, is that young men have choices to make and these choices define them, even if those choices are made when temptation is great and opportunity is abundant. In fact, our humanity is most expressed when faced with such things, we choose integrity and decency; when we abstain from doing what is easy but wrong.
We as parents don't control our children. Most parents understand this. Despite our best efforts to the contrary, they fail and fall and do things we'd never consent to. I certainly hope this is such an occasion, though it is not coming across that way in your letter. It feels like you want more sympathy and goodwill toward your son than you want for the survivor of his crime, and that's simply not good enough for her or for those young men and women watching.
Here is her story.
You love your son and you should. But love him enough to teach him to own the terrible decisions he's made, to pay the debt to society as prescribed, and then to find a redemptive path to walk, doing the great work in the world that you say he will.
For now though, as one father to another: help us teach our children to do better—by letting them see us do better.