JUST DATING NEWS!
---
Dating Changed During the Pandemic; Apps Are Following Suit
The use of dating apps in the last 18 months of the pandemic has surged around the globe.
FILE – This Tuesday, July 28, 2020, file photo shows the icon for the Tinder dating app on a device in New York. The use of dating apps in the last 18 months of the pandemic has surged around the globe. Tinder reported 2020 as its busiest year. (AP Photo/Patrick Sison, File) THE ASSOCIATED PRESS
By UROOBA JAMAL, Associated Press
LONDON (AP) — Early in the coronavirus pandemic, Jennifer Sherlock went out with a few men she met through dating apps. The dates were "weird," she said, and not just because they were masked, socially distanced and outdoors.
One one occasion, a date remained masked while they were out for a stroll, but soon after invited her back to his place, a move Sherlock saw as reckless. "It was so off putting, and awkward," she said. "So we wouldn't be safe outside without mask(s), but we would be safe back at his place maskless?"
She decided she needed a way to filter people, so she began arranging video chats before agreeing to meet anybody in person. Sherlock, 42, a PR consultant who lives in New Jersey, said it's a practice she'll continue post-pandemic.
Sherlock isn't alone in changing the way she used dating apps during the pandemic, prompting many to roll out new features. Despite the social distancing of the past 18 months, the use of dating apps in general has surged as people sought connections amid their isolation.
Tinder
reported that 2020 was its busiest year yet; this year, its users have already set two records for usage between January and March. Hinge tripled its revenue from 2019 to 2020, and the company expects it to double from that this year.
In response to changing demands, Tinder announced new tools last month that will allow users to get to know people better online. People will now be able to add videos to their profile and can chat with others even before matching with them.
"Historically consumers were reluctant to connect via video because they didn't see the need for it," said Jess Carbino, an online dating expert and sociologist who has worked for Tinder and Bumble. Post-COVID, however, many people expect a higher degree of screening, she said. "Online dating apps like Tinder are leaning into that."
The dating apps say their research shows video chats are here to stay, even as life starts to return to normal in some parts of the world.
Almost half of Tinder users had a video chat with a match during the pandemic, with 40% of them intending to continue them post-pandemic. Tinder says this is largely driven by Gen Z users in their late teens and early 20s, who now make up more than half of the app's users. And a majority of Hinge UK users, 69%, also say they'll continue with virtual dates after the pandemic.
Tinder, alongside other popular apps including Hinge, OkCupid and Bumble, has in Britain and the U.S. partnered with the government to add a badge to profiles indicating that users have been vaccinated. (There's no verification process, though, so matches could be lying.)
Dating app users are also increasingly looking for deeper connections rather than casual encounters, Carbino said.
That's what happened to Maria del Mar, 29, an aerospace engineer, who wasn't expecting to end up in a relationship after she matched with someone on Tinder early in the pandemic last year.
She started chatting with her now-boyfriend through the app in April 2020 during a complete lockdown in Spain, where she lives. Having moved back to her parent's tiny town of León from Barcelona, del Mar was bored when she joined the app, but was surprised to find many things in common with her current partner.
After weeks of chatting, they finally met for a first date — a socially-distanced hike — after restrictions eased slightly in May 2020. Now the two have moved in together. "If it wasn't for the app, probably our paths wouldn't have crossed," she said.
Fernando Rosales, 32, was a frequent user of Grindr, an app popular with gay men looking for more casual encounters, in pre-pandemic times. He turned to Tinder for social connections when coronavirus restrictions prevented people from meeting others in London, where he lives.
"Grindr is like, 'I like you, you like me, you're within 100 meters of me, I'm going to come over,'" said Rosales, who works at the popular British coffee chain Pret.
"Tinder is something more social," he added,. Sometimes he uses the app just to meet others to play online video games or video chat.
Ocean, 26, a drag artist and photographer in Berlin, turned to the live video feature of a LGBTQ+ app called Taimi to make friends across the world during the pandemic. Having two-to-five minute video chats with strangers from places like the Philippines or parts of the U.S. was "amazing," she said. Ocean's given name is Kai Sistemich; she identifies as a woman when in drag.
She said she'll continue using the feature post-pandemic, especially while she's doing solo activities like cooking, or getting ready before going out to party.
Sherlock also expects some of her pandemic dating behaviors to carry into the post-pandemic world. She recently asked two men she was texting for Facetime chats before meeting in person, something she would not have done pre-pandemic.
"It's a crazy dating world out there, so saving time is necessary," she said.
Copyright 2021 The Associated Press. All rights reserved. This material may not be published, broadcast, rewritten or redistributed.
---
Needless to say, 2020 was a weird one for dating. Meeting someone the old-fashioned way finally died a death, 'virtual dating' became a legit thing and with all the social distancing, casual sex was pretty much off the table.
Back in 2019, when we predicted this year's dating trends, little did we know the sh*t show 2020 had in store. Though actually, some of the trends have totally rung true.
Last December, we told you that Retroshading would become a phenomenon. It's where we would bring back a potential unwanted lover into our lives. And hey, they all came crawling back this year didn't they?
And what about Manisfesdatetion – spot on, no? We just about manifested everything we wanted this year, including a new partner, more money and stronger friendships, because how else we were going to get what we wanted from 2020?
To quote 2019 us, we said: "A manfistdater goes dating knowing *exactly* what they're looking for, manifesting it, and maintaining their vision as the relationship progresses. If it gets to year three and they're still making you cook for them every evening – it's time to take a step back…"
So as we look to the year ahead (with very eager anticipation), we have some confidence that we know what's coming for your dating life and we've called upon the experts at Bumble for their insights because they have literally seen it all this year…
Here's a sneak peek of your year in dating, according to Bumble.
New Dawn Daters
Whether it was the long-distance or getting way-too-close for comfort, the pandemic put a lot of relationships to bed, meaning many will be back on the dating apps in search of new prospects in 2021 – and for some of us, it's been a while.
It's estimated that a fifth of people on Bumble next year will be 'New Dawn Daters' – an eclectic mix of those that are newly-single and ready to mingle or new to digital dating and just a little bit nervy…
Hardballing
2021 daters are not messing around. After a v. lonely year in lockdown, around 46% of users will be looking for something serious. If you're 'Hardballing' next year, it means you know exactly what you want and you're not messaging around with anyone that doesn't tick all the boxes.
It turns out 2020 might have changed us for the better. Apparently, 38% of Bumble users felt more confident saying what was – and very much wasn't – right for them in their dating lives this year and a third of us weren't afraid to tell someone they just weren't right. This is serious now.
Astrolove
Amidst all of the unpredictability, horoscopes helped us look to the future lots this year. You wouldn't be the only one who was searching them for some kind of sign about our love lives, either. It's called astrolove – how romance could be written in the stars – and it could be here to stay with more than 1 million people in the UK adding their zodiac sign to their dating profiles in the last six months, which (amazingly) has been shown to improve your chance of matching by up to 53% (!!)
Slow Dating
Finally, people are taking the time to get to know each other and build a connection before deciding if they want to meet in person or pursue a relationship. Thanks to quarantines and bans on inter-household hook-ups, around 2 in 5 people were taking longer to get to know someone, apparently using this slowly-slowly approach to think critically about what they want in a relationship.
Locdating
While we're used to tapping into new dating pools every time we change locations, we're going to be dating on a much smaller scale in 2021.
Bumble found that post-lockdown more people were inclined to date locally, especially since we've all become a bit more familiar with the communities right on our doorsteps. So could this be the year you finally fall in love with thy neighbour? At least we'll all be giving it a chance…
* Bumble survey of users in US, UK, Ireland, Canada and Australia, August 2020.
**OnePoll research in UK and ROI, June/July 2020.
---
California man accused of trying to rape woman he met on Tinder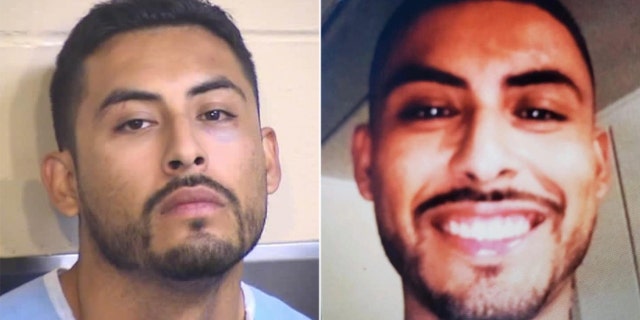 California police have arrested a man they say tried to rape a woman he met on a popular dating app.
"In this particular case, Fabian used the social media dating site Tinder to entice a woman into meeting up with him. Fabian is known to use the profile name 'Dominick,'" the sheriff's office said in a news release.
"After making a match with the woman online, Fabian arranged to meet with her in person," the news release said. "After spending some time together, the victim attempted to leave, but Fabian forced himself on her and attempted to rape her."
The news release said the woman was able to break free and fled the area. She then called 911.
Orenelas was charged with kidnapping, false imprisonment, attempted rape, probation violation, and other charges related to sexual assault. He was jailed in lieu of bail in the amount of $243,500.
The news release alleges Ornelas may have victimized other women
---
Online Dating Might Be Changing the American Family
While letting people know that you and your partner met online isn't always the most exciting meet cute, the truth is that dating sites and apps are ubiquitous. Today, more than one-third of marriages start online, and that might actually be a really good factor for healthy relationships. A new paper suggests that couples who meet by swiping right have stronger and longer marriages than those that meet offline.
© Provided by Fatherly Tinder
According to the paper, written by Josué Ortega at the University of Essex in the UK and Philipp Hergovich at the University of Vienna in Austria, meeting online is now a much stronger indicator of a marriage's potential for success. The researchers measured the compatibility between two partners in 10,000 randomly-generated societal simulations. They then calculated the strength of marriages according to their degree of compatibility. And after adding online-dating connections to those societies, what they found was that those online connections noticeably increased compatibility, presumably leading to better marriages.
These findings line up closely with earlier studies that suggest that online dating could be related to happier marriages. One 2012 study, for instance, looked at about 19,000 people who married between 2005 and 2012. On the whole, couples who met online said they had more satisfying marriages than couples who met offline, and those marriages were less likely to end in separation or divorce.
© Provided by Fatherly
Before you single folks double-down on your Tinder swiping, it's important to note that these findings just indicate a connection between online dating and good marriages. There's no conclusive evidence that meeting online guarantees a stronger relationship, nor does it at all mean that meeting partners the old-fashioned way is a lost cause. There are a lot of factors that affect these results, including whether people who sign up for dating sites are also likely ready to get married.
It could also have a lot to do with the fact that people frequently meet their future partners through mutual friends, and online dating exposes users to a much wider social network. Breaking out of "friend of a friend" blind dates simply increases the number of new people that users can meet. So, it could be a numbers game.
Either way, while you're likely to see more and more marriages spawning from eHarmony or Tinder, meeting your partner offline first doesn't destine you for a worse marriage.
The post Online Dating Might Be Changing the American Family appeared first on Fatherly.
---
Catfishing during coronavirus: How an old internet scam still tricks people
By: Jareen Imam
An internet search for Mike Sency's name immediately yields hundreds of accounts spread across social media and dating websites.
Many of the profiles contain small differences, such as the photos used, different spellings of his name, even various details about his hobbies and interests. But they all share one common trait: they're fake.
Sency is used to it. For years, pictures he posted online have been used to create fake profiles by people looking to scam others, often out of money, a practice generally known as catfishing. His problem isn't a new one, but it is an issue that has proven nearly impossible to stop.
"I can spend anywhere from two to three hours reporting these fake accounts a week," said Sency, 30, who lives in Virginia Beach, Virginia, and serves as a chaplain bodyguard in the U.S. Navy. "It's definitely taken a life of its own."
Since the start of 2019, his Facebook messages have filled up with hundreds of people claiming they've been scammed out of tens of thousands of dollars because of fake accounts using his name and likeness.
"I try to empathize and I try to help," Sency said. "But people forget that I'm a victim as well, and it hurts my feelings. I am worried about how this is going to affect my future and my family — even my mom gets calls from strangers claiming they know me because of these fake accounts."
Deception has been part of the internet since its earliest days as a consumer tool, but the practice of using stolen photos arose as more people began creating social media and online dating profiles in the early 2000s. By 2012, catfishing had become a cultural phenomenon with an MTV documentary show that year chronicling the deceptions of online dating.
Despite more widespread awareness of such schemes, taking people's photos for fake accounts is growing more common as internet impersonating scams continue to rise. More than 19,470 people reported being victims of confidence fraud and romance cybercrimes worth about $475 million, according to the FBI's 2019 Internet Crime Report, that's up by 1,000 reports since 2018.
And as more of the world shifts online because of stay-at-home orders amid the coronavirus pandemic, some cybersecurity experts are warning consumers to be on high alert.
Ahmed Banafa, a professor of engineering at San Jose State University, said as platforms like videoconferencing app Zoom become more ubiquitous, people's identities may be increasingly stolen in new and creative ways.
Even video may not be safe.
"It's easier to get people's photos and likeness now," Banafa said. "Three years ago, we didn't have TikTok. There are so many dating apps. We are sharing on more platforms."
Social media platforms don't have much incentive to address fake profiles and they likely won't change without some form of government regulation, he said.
"What is their motivation to make it harder to make an account? The user experience is important for social media users," Banafa said. "This is a famous trade-off between convenience and security."
He recently discovered his own identity was being used on fake accounts on Facebook and LinkedIn. Reporting and getting those fake profiles taken down was very time-consuming, he said.
"There is a big problem with the design of these apps. Security is an afterthought, but that's wrong. It needs to be a building block," Banafa said.
The coronavirus pandemic has also presented new opportunities for stolen photos to be used to perpetrate scams. Kaytlin Cupp, 25, a nursing student in Oklahoma City, Oklahoma, said she's been dealing with an impersonator Facebook account since the start of April. The fake account stole photos, one being of her dressed in nursing scrubs, and has been asking people to donate money to an illegitimate coronavirus fund.
Cupp and her friends reported the fake account to Facebook more than 400 times before it was taken down three weeks later. Even though the fake account is gone, the damage remains, she said.
Since then, she has received messages from strangers claiming they have interacted with her on dating apps like Tinder, which she isn't on, and were lured into sending money to the impersonator.
"I feel so violated," Cupp said. "I am not an influencer. I am busy with finals. I don't spend a whole lot of time on social media. I thought I was knowledgeable about how to keep things private online."
Some social media and dating companies have tried to put in place systems to stop catfishing.
Facebook has warned that financially motivated scams usually include impersonating members of the public who are deemed trustworthy, such as members of the military, veterans and other professionals.
"We require people to use their real identities on Facebook. While we've strengthened our technology to better combat impersonation, this work isn't finished and we're committed to doing more to keep these impostor accounts off of our platforms," a Facebook spokesperson said.
Tinder said in a statement to NBC News that catfishing is a violation of its user policies.
In January, the company rolled out a photo verification feature in which users are prompted to share real-time photos that match a series of poses in order to have their profile verified. Once the photos are analyzed and the profile is verified, users earn a visible blue check mark on their accounts.
Robert Siciliano, CEO of Protect Now, a security firm in Boston, said there are some ways for people to take precautions against catfishing.
He suggested setting up Google alerts with different variations of one's name, making social media accounts private and reporting abuse.
As for Sency, he said he sometimes feels the effort that goes into reporting the abuse can feel like a waste of time.
"Why should I change my living situation just because some bad guy is taking advantage of my pictures?" he said.
But Siciliano advised people to take control of their digital brand, even if it feels overwhelming because those false accounts could impact future employment and other opportunities.
"These abuses could potentially be your legacy online. You have a choice of what your legacy is," he said. "Everyone needs to either not be online at all or elevate their presence in such a way that it pushes whatever is negative down in search."
---
 Safe Online Dating:
The Dating Site Trolls Are Watching – Safe Dating Practices
 There are two legitimate uses for online dating platforms – 1) to make a long term connection, maybe even your life long soulmate or 2) a quick hookup, still, it's a legitimate human connection. While dating apps server its purposes extremely well and continue to grow in popularity – dating apps also provide significant prosperity for not only dating app owners but for the many who have found a third use for dating platforms which is not so legitimate but has proven to be fruitful.
Scoping out and targeting Online Dating victims from behind electronic screen is the third use for dating apps and it's as easy as shooting fish in a barrel. With little dating safety measures in place the online dating world has become fertile hunting ground for Predators, Scammers, Dine and Dash Daters, Catfishing, and DWM's – Dating While Married. Dating apps can be a minefield – you may meet your match, or you may get hooked on the line of someone who's completely batsh!t crazy. Let's face it, some downright dangerous types regularly troll popular dating services like Match.com, Tinder and even totally free dating sites like PlentyofFish and Okcupid.com.
Surely, we know in this cloud-based alternative dating universe, people lie. But researchers at Cornell and University of Wisconsin-Madison found that roughly 80% of Online Daters lie in their profile. One thought suggests, this may be because people are emboldened hiding behind Dating Site Usernames never revealing their real name or true intentions. And without a first and last name it is almost impossible to perform online dating background checks on a person – which helps to perpetuate predatory behaviors.
Take for instance, Los Angeles native, prolific online dater and recently convicted serial Dine-and–Dash Dater Paul Gonzales. His notorious capers can be traced back to 2016.  Gonzales found women on popular dating apps like PlentyofFish (POF). He set up dates using multiple identities, enticing unsuspecting women to meet at expensive restaurants, sometimes ordering enough food to feed a table of four – explaining that he was on a special high caloric diet. After satisfying his hunger pains, he excused himself from the table to take a phone call, then abandoned his victims while leaving them with an enormous bill. After being convicted of the dine-and-dash crimes in November, Gonzales surrendered in January to serve a 120-day jail sentence in Pasadena. In addition to the jail time, the Judge threw "the plate" at Gonzales and placed him on probation for three years.
He was also ordered to pay restitution to two of his victims and to stay at least 100 yards away from five restaurants where he perpetrated his gastronomic crimes. The Judge also barred Gonzales from the dating sites PlentyofFish and Bumble; and was informed that he is subject to search and seizure conditions involving electronic devices and accounts.
But with 22 victims revealed over many months, from Long Beach to the San Fernando Valley, this has got to make online daters pause before they meet another date without doing at minimum a cursory check on a date before they agree to meet. With Paul Gonzales, women were hurt financially, but we know there is far worse and it all has to end. Online Daters need to be a bit more suspicious of the strangers they are communicating with and meeting in cyber-universe.
Predictably, with the prevalence of Online Dating, which Statisticbrain.com reported over 50 million people utilized within the last year, online sexual harassment and online dating assaults are on the rise across the U.S. In a study, by Consumers' Research 57% of female respondents and 21% of male respondents reported experiencing harassment on a dating service. In addition, sexual assault among dates who met on online dating platforms across the U.S. is on the rise. Crime Watch Daily with Chris Hansen reported troubling findings which still hold true in 2019: online dating crime statistics shows internet predators are committing more than 16,000 abductions, 100 murders and thousands of rapes each year. This shows that predators are just as comfortable trolling dating platforms today as they were years ago and little has been done to prevent the patterned behavior from occurring. Online Daters, both men and women cannot allow online dating to drive the next generation of #MeToo. Dating site members have to be cautious and stay a step ahead of the trolls because honest people are getting hurt every day – and not just emotionally. Online Dating Safety must be on the forefront of every daters' minds.
There are proactive steps which daters can take in order to "date smart from the start:" Background checkers are great tools. A few are dedicated to Online Dating safety. And, although none are 100%, they are all focused on keeping you webdate savvy and help you make more informed decisions about the people you communicate with. Below are a few of my favorites:
 CrayRate
Cost: Free
Watch group for Online Daters
How It Works: One-of-a-kind crowdsourced & socially networked community dedicated to separating the Sketchy Dates from Soulmates – before you agree to meet. Works with as little as a dating site username.
(Cons: It is s community similar to Yelp and relies on members to Rate and Review Dates. Members post documents, details and descriptions of online dater's behavior so it is a firsthand account. Additionally, a date is given a star rating from low risk date to severely dangerous.)
Stud or Dud
Cost: Free
An App, Lets You Run Background Checks on Your Dates
How It Works: background check or true people search by: date's first and last name, phone number lookup and email lookup.
(Cons: Names, phone numbers and emails – can be spoofed, deliberately hidden and so are the person's true intentions. Scammers never give real information. The App has received a few bad reviews on Facebook because it has provided incorrect information on some folks, but their heart and mission is clearly in the right place which is safe dating online.)
Date Protect Her
Cost: $19.95/ month
Online Dating Background Check Service for Women
https://www.dateprotecther.com/
How It Works: Investigate Your Online Date With A Comprehensive Background Report In Minutes!
(Cons: Geared toward women: Need real first and last name to conduct a background check, or people search. However, that information is never easy to come by. The website does not appear to conduct reverse phone lookup. But, much respect for their dedication on safe dating practices.)
More ways to be Date Savvy:
Be wary of communications that ask you to act immediately, offer something that sounds too good to be true, or asks for personal information. There are certain red flags to watch for that may indicate you're dealing with a scammer. Be aware of anyone who…
 – Quickly asks to talk or chat on an outside email or messaging service
 – Claims to be from U.S. but currently travelling, living or working abroad
 – Asks you for money
 – Vanishes mysteriously from the site, then reappears under a different name
 – Married people or minors using the service
 – Talks about "destiny" or "fate"
 – Claims to be recently widowed
 – Asks for your address under the guise of sending flowers or gifts
 – Makes an inordinate amount of grammar and/or spelling errors
 – Emails containing strange links to third-party websites
 The U.S. Federal Trade Commission's advice to avoid online romance scams is available here: http://onguardonline.gov/articles/0004-online-dating-scams
Be cautious and use common sense. If personal details provided by another person don't seem to add up, they behave suspiciously or pressure you for personal or financial information – block communications with that person and report them immediately. https://www.ic3.gov/default.aspx
Examples of reportable offenses include:
   – Asking you for money or donations
   – Members sending harassing or offensive emails/IMs
   – Members behaving inappropriately after meeting in person
   – Fraudulent registration or profiles
   – Spam or solicitation, such as invitations to call 1-900 numbers or attempts to sell products or services
 Offline Safety Tips
First meetings are exciting, however, always take precautions and use the following guidelines.
Get to know the other person before meeting them offline – Always check their CrayRate before meeting and use the technology on dating sites that protects your anonymity to get to know someone before disclosing personal information or meeting in person. Conduct a criminal background checks on daters, so if you would like more information about someone, we recommend using the Internet and government resources available to everyone. This can include typing the person's name into a search engine, reviewing public information made available by government offices, or using a paid service to obtain a full background report.
 Safe Dating Practices  
Always meet in public- Meet for the first time in a populated, public location – never in a private or remote location, and never at your date's home or apartment.
Stay in a public place- It is best not to go back to your date's home or bring them back to yours on the first date. If your date pressures you, end the date and leave at once.
Tell a friend- Inform a friend or family member of your plans and when and where you're going. If you own a mobile phone, make sure you have it with you.
Stay sober- Keep a clear mind and avoid doing anything that would impair your judgment and cause you to make a decision you could regret.
Drive yourself to and from the first meeting- Just in case things don't work out, you need to be in control of your own ride – even if you take a taxi.
Keep personal items with you at all times- You don't want to risk having personal information
Following these simple steps can provide insight and a healthy dose of adventure to the Online Dating experience.
We know your match is out there, don't compromise your safety to find it – always Date Smart from the Start!
March 6, 2019
---